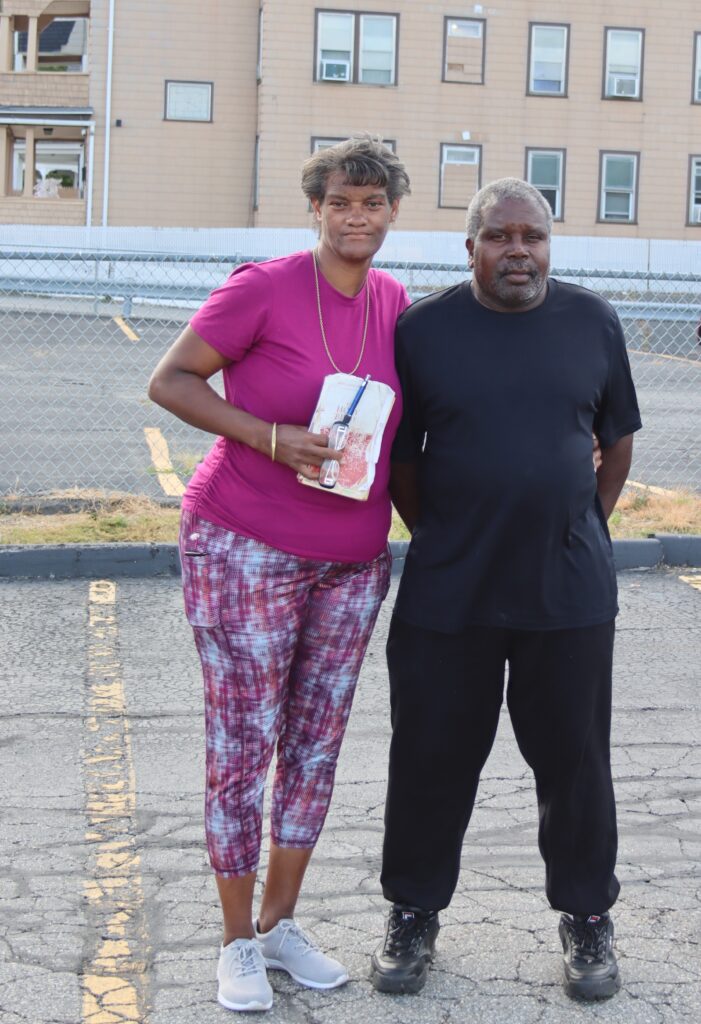 The Chase
A man of medium height and stout built, Willie Brown walks with a hitch and a stride that is as purposeful as water running downhill.
He came out of the womb with both feet fractured and grew up in foster care, learning not to depend on life cutting him too many breaks.
As a result, he is never crippled by disappointments. When life knocks him down, he gets up, dusts himself off, and starts over again.
But no matter how hard he tries to attain affordable housing, it stays out of reach like the mechanical rabbit greyhound chases.
WORCESTER-STILL-REMAINS-OUT-OF-REACH-FOR-MANYDownload
The father of five and a Worcester resident for more than 40 years, his housing experience is riddled with foreclosures, condemned apartment buildings, and evictions.
Willie's latest eviction came last year when the landlord sold the apartment building where he lived with his wife and an elder son. The new owner evicted them in short order.
It didn't help that he and his wife were still recovering from severe medical challenges–Willie from being hit by a truck, and Teresa from a ruptured colon.
"We fought it(eviction) in housing court, but the judge was all for the landlord," Wille said.
"'That's the way it works,' the judge said. 'She (new owner) buys the building; if she wants you to go, you have to go.'
"She (the judge) wouldn't let you explain yourself."
"I said, 'we have medical problems,' and she said, 'I don't care. You got to go.'
"I told her my wife just went to the hospital, and I brought the doctors' letter and everything to show her, and she said, 'No. You're out.'
"At the time, it was getting hard finding an apartment you could afford. The rent was going up, and once it got to $1800, $1900, we couldn't afford that."
When I spoke with him and his wife Teresa at the Honey Dew on Gold Star Boulevard last month, they were alternating between getting a hotel room, sleeping in their car, or staying with friends.
The Honey Dew store was a staging area for a new push at getting housing and lining up work gigs. Open Sky Community Services and Teresa's pastor, the couple said, were helping them to secure immediate shelter, while Willie kept himself busy.
"I do everything," he told me, explaining he has been a construction worker since 1993.
"I'm a jack of all trades. I do lawns. I do plumbing, a little electrical work, and a little painting there. I know many contractors in the area. They call me up, or I call them up, and they come and pick me up."
Willie is focused on securing housing again, and he is sure it will happen soon. But it is equally likely that he will be on the street again as soon as he does.
The Mechanical Rabbit
While some may want housing to be a fundamental human right,  it is primarily a commodity bought and sold to build wealth and generate profits.
The reality of the real estate market is that you have to pay to play, and few low to moderate-income people can afford to play this game.
According to the Worcester Regional Chamber of Commerce, private developers invested more than $600 million in developing housing units in the city over the past year.
"These investments," the Chamber contends, "represent at least 2,300 rental housing units that either recently came online or are expected to be online in the next few years."
Yet, the city is nowhere close to resolving its affordability problem, according to City Councilor Etel Haxhiaj, who noted that Worcester is currently behind by about 12,000 multi-family housing units relative to its population.
"It's not just people close to homelessness that are vulnerable now, but also low to moderate- income level people who struggle to find housing.
"People are being displaced not because they can't pay rent (called no-fault evictions) but because they literally cannot afford $400 0r $500 rent increases."
The disconnect between the housing boom and the lack of affordable units is no mystery. Developers looking to maximize profits don't generally pursue affordable housing developments.
Local municipalities can use subsidies to incentivize affordable housing development. But, according to Michael Kane, executive director of Mass Alliance of HUD Tenants, there is little political appetite for the scope of subsidies needed to bridge the gap between supply and demand.
"If you gave a grant to a developer to pay a hundred percent of the development cost, low-income people still wouldn't be able to live there because they wouldn't be able to afford the utilities and the operating cost," he said.
"If you really want new housing to be affordable to very low-income people, who are the majority of people who needs help, you have to have a low-income subsidy as part of the deal."
The Predators
The prospect of homeownership is also out of reach for low to moderate-income families.
Buying a house helps you to build wealth, but like most investments, a profit is most likely if you are financially able to hold on to it for the long run.
That includes surviving the predatory practices of financial institutions that game the residential real estate market to make money in the short run.
"We owned a house when they gave out mortgages," Willie told me
"When they gave it to us, it was supposed to be a set mortgage and, turned around, it wasn't. That's when Ameriquest was screwing everybody over, so we ended up giving the house back.
"The mortgage was way more money than it was meant to be."
Land records show that Willie and his wife were granted a $230,000 mortgage on a property at 15 Loring St. It appears the couple first had to borrow $11,500 at 15 percent interest to secure the mortgage.
The bank foreclosed on the property on Dec 19, 2005.
Notable, by 2008, when Willie took out his mortgage with Ameriquest, the company's predatory lending practices were well known.
The year before, Attorney General Martha Coakley had announced Ameriquest Mortgage Co. and its affiliates would pay 20,000 Massachusetts borrowers $13.75 million in restitution as part of a $325 million national settlement of predatory lending charges.
That the fine was not a deterrent is understandable–$325 million pales compared to the $50 billion in new subprime mortgages the company originated in 2004 alone, according to a Latimes.com business article.
Some economists are concerned that another housing crisis, similar to 2008, is brewing.
The Human Will
The truth is that housing unaffordability is just one of society's many built-unfairness.
Spotlighting them may provide fodder for media coverage and talking points for politicians and civil rights advocates but few breaks for those crippled by these injustices.
And after all the talk and all the promises, the Willie Brown and Teresa Gomes of the world have only one sure thing on which to rely– their will to survive.
"I'm just out here working and grinding and doing what I have to do to survive, and I can do that," he told me.