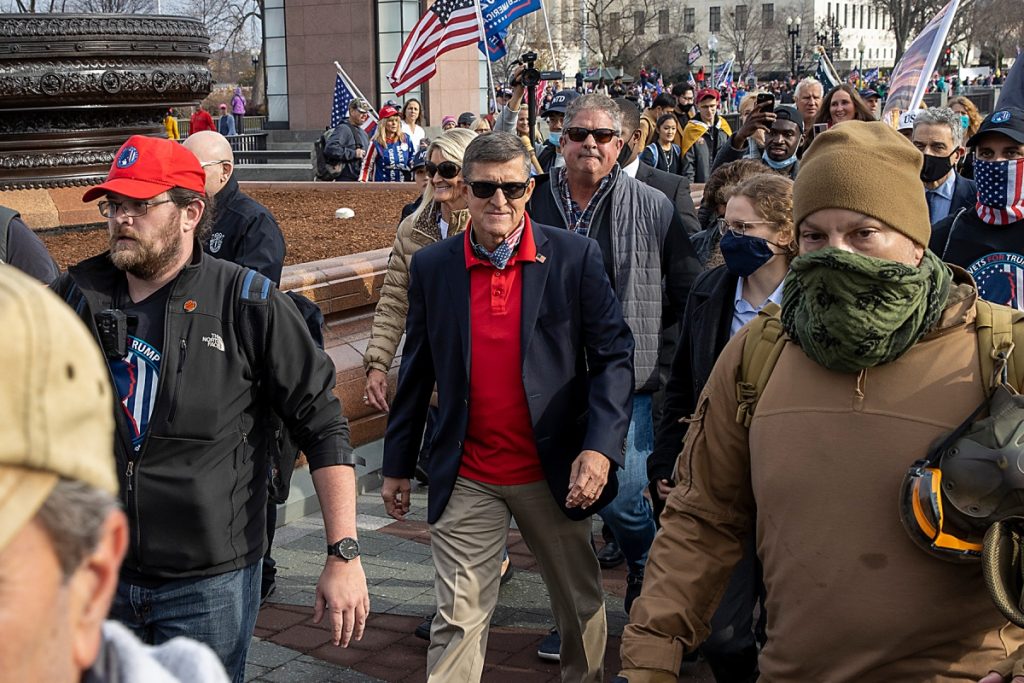 "Within the swing states, if he wanted to, he could talk military capabilities, and he could place those in states and basically rerun an election in each of those states." Gen. Flynn, Dec. 2020, positing how Trump could steal the election.
As we must, we gave our military veterans the honor they deserved Thursday. As we should, we looked on the brighter side of military service.
But I cannot overlook that three days prior to Veterans Day, Retired Lt. Gen. Michael Flynn, a former national security adviser, was among Trump's administration officials and allies subpoenaed by the U.S. House Select Committee investigating the Jan. 6 attack on the U.S. Capitol.
I cannot forget that veterans were among the traitors who participated in the Jan. 6 insurrection.
The Justice Department, so far, has charged more than 70 current and former members of the U.S. military for "attacking their own democracy."
Surprising?
Not really.
According to researchers Daniel Milton and Andrew Mines, veterans have long been prized recruits for extremist groups.
In a report titled "This Is War," the researchers noted that almost 40% of the insurrectionists with military experience had affiliations to violent domestic extremist organizations.
"Historically, individuals with military experience are highly sought-after by various domestic violent extremist organizations," the authors wrote.
"Some, like the Oath Keepers, prize military experience well above other qualifying characteristics. These organizations specifically target individuals with military experience for recruitment because of the significant value-add to their causes…
"They also offer another commodity: political legitimacy. The military is one of the most trusted institutions in the country."
But the military is not immune to the disease delivering this decade of broken trusts.
Shortly after Trump pardoned him for lying to the FBI, Gen. Flynn began promoting martial law as a strategy to redo the elections and keep Trump in power.
"Within the swing states, if he wanted to, he could take military capabilities, and he could place those in states and basically rerun an election in each of those states," Flynn said at the time.
"I mean, it's not unprecedented. These people are out there talking about martial law like it's something that we've never done. Martial law has been instituted 64 times."
The subpoena by the House select committee seeks to probe Flynn's involvement in a Dec. 18. 2020 Oval Office meeting.
At the meeting, Flynn and other participants reportedly "discussed seizing voting machines, declaring a national emergency, invoking certain national security emergency powers" to invalidate Joe Biden's victory.
As the Rolling Stone magazine pointed out, Flynn's anti-democratic inclinations, to include "his chummy private conversation with a Russian ambassador, his involvement in a plot to kidnap and smuggle a Turkish dissident to an island prison for $15 million," have been well documented.
The following veterans are among the insurrectionists: Milton and Mines
Larry Brock, a retired lieutenant colonel who served 25 years in the U.S. Air Force and who is accused of planning to take hostages at the Capitol;
Jeffrey McKelllop, a former U.S. Army Special Forces soldier who served 22 years and who is accused of throwing a flag pole "like a spear" and striking a police officer;
Christopher Charles Kuehn, a 22-year Marine Corps veteran accused of being one of a number of Proud Boys to storm the Capitol;
Dominic Pezzola, the alleged Proud Boy and Marine Corps veteran accused of smashing windows and being one of the first rioters to breach the Capitol building.
---
While some of the foot soldiers of the attempted coup are being charged, the coup planners and influencers are still roaming free. Chief among them, of course, is the former commander in chief.
That cannot stand if we are to rebuild trust in our institutions.
Trust in the military is of particular importance because our military has the power to take away in one day all the freedoms our a democratic society spent hundreds of years and expended hundreds of thousands of lives to gain.
Yes, we should acknowledge and celebrate veterans who honor their oath to defend the constitution and carry on their service to their country and fellowmen after their discharge.
But we shouldn't hesitate, not for one minute, to say to those like Flynn, "Thank you for your service, but you belong in Jail."