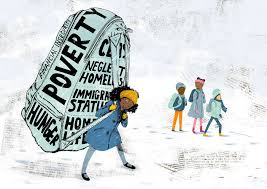 The Coronavirus Poses Some of the Gravest Risks to Poor Students and Their Families.
The coronavirus is highlighting communities' equity imbalance in some chilling ways.
And one needs not look beyond Worcester to see this.
On Sunday, the school department announced a number of steps it is taking to ease the burden closing schools until April 6 will have on students and parents.
Those steps include implementing a Meals-to-Wheels program for students and providing them greater access to extended learning through the school system's website.
The Meals-to-Wheels program, which would use the city's summer feeding sites, is an acknowledgment of the persistent poverty level of many children, children whose safety and nourishment are often more secured in school rather than out of it..
But the feeding program, because of its potential to attract sizable gatherings, seems to contradict the behavioral guidance for combating the ongoing pandemic.
Indeed, in the same commutation announcing the feeding program, the administration pointed out, "Medical experts advise not using facilities like playground structures, avoiding contact with people outside your family and avoiding groups events."
Yet, if the feeding program is not implemented, many of these students will quite likely go hungry for days as they wrestle with the stark choice of eating or practicing full coronavirus protocols.
Similarly, there are a number of students who do not have the technological resources to take advantage of the WPS online, extended learning opportunities, even with the announcement that Spectrum will provide free Wi-Fi access to those who need it.
School Committee Member Jack Foley credits school administrators on working to increase online, extended learning capacity, but said he is worried "the current technology divide" among families will hurt some children.
---
Meanwhile, if you are hearing different numbers about the level of the coronavirus presence in the city you are not alone. Is it one or two confirmed cases?
Here is what I was told by city officials. There is one confirmed and five presumptive cases in the city.
There is another confirmed case in Worcester County, which perhaps explains the contention by some that Worcester currently has two confirmed cases.
Stay tuned for further development on this.