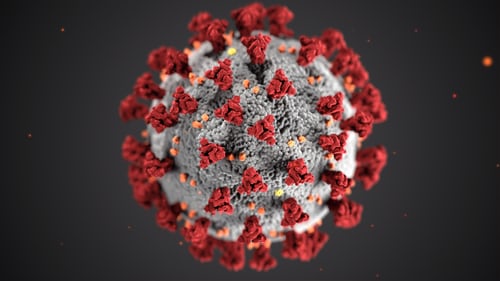 City Leaders Push to Contain the Virus, but are Handcuffed by Limited Testing.

City leaders did their best during a news conference Thursday to assure us they were responding as best as they could to the coronavirus.
Mayor Joe Petty, City Manager Ed. Augustus, Dr. Mattie Castile, commissioner of public health, Dr. Michael Hirsh, public health director, City Councilor Sarai Rivera and Schools Superintendent Maureen Binienda were the officials who spoke to the city's preparedness..
I don't doubt their sincerity.
Yet, unfortunately, the news conference only confirmed the general consensus that the virus has overran existing containment efforts.
There were signs, too, that city leaders were still preaching rather than practicing anti-virus protocols.
For example, even as they exhorted residents to maintain social distancing, they themselves were scrunched shoulder to shoulder along a rectangular table.
In their defense, they did have hand sanitizers strategically positioned on the table.
And even as they implored residents to use the city's website to get assistance and information, one of their informational documents on the website was seriously outdated.
This document read, "Health Alert: If you have been in Wuham within the past two weeks and develop a fever, cough or have difficulty breathing, seek medical care right away."
Of course, we know that since the onset of the virus in China, South Korea, Iran, Italy, Germany and the United Kingdom are having some of highest infection rates currently.
"We are in uncharted waters," Dr. Hirsh said.
That's an understatement, but it perhaps explains why it felt at times during the news conference that the city's right hand didn't know what the left was doing.
Dr. Hirsh told us, for example, that there were 36 people dead from the virus nationwide. Well, he was actually using hours-old data. The number coronavirus deaths were 41 by the time the news conference began.
Dr Hirsh also told us there was only one presumptive case in the Worcester County and no confirmed case in the city.
But then the city manager told us that just hours before the news conference three individuals from two Worcester schools—Chandler Magnet and North High School—were "under investigation" after having contact with an infected person.
Dr. Hirsh said none of the three individuals were students, only to be corrected by the city manager who said "There are some students that are being looked at among the three."
Nothing was said about whether the students and staff that may have come into contact with the three individuals "under investigation" should self-quarantine until we know better.
Ms. Binienda did day she would close all the schools Friday, give the buildings a good scrub and resume classes Monday.
"Worst case scenario, let's say if we have to close the school, we would absolutely do that, if there was a health challenge or an issue," she said Thursday.
On Friday, perhaps as result of the federal government belated declaration of a state of national emergency, she announced she was closing the school until April 6.
What changed between Thursday and Friday? Did a "health care challenge" or "an issue" that wasn't there before suddenly propped up? Or was she just following the leader?
We don't know. Utterances such as "presumptive," "under investigation" and some students are among three individuals," are not very clarifying or reassuring at all.
But I don't blame city officials if they seem less than prepared for this fight. They are flying blind, just like many cities and towns around the country.
It's extremely difficult to keep pace with a fast moving virus like this, when the U.S., as of Friday, had tested only 10,000 people for the virus, while South Korea is testing some 12,000 a day.
So, how can Worcester adequately fight the virus, when the president of the country doesn't take it seriously.
On Friday, he announced his decision to declare a state of national emergency as a campaign speech, essentially boasting how he and he alone has done the most to combat the coronavirus,
This is coming from a man who in the same breath said he would not take any precautionary measures following his contact at Mar-a-Lago with a Brazilian official who was diagnosed with the virus?
Yes, Dr. Hirsh, we are indeed living in uncharted times.